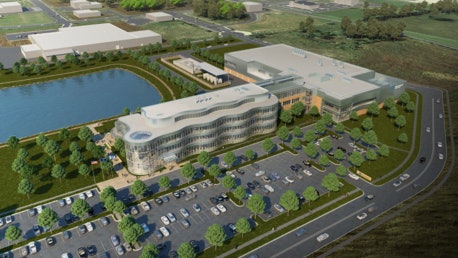 Arrowhead inaugurates a new manufacturing plant
Arrowhead Pharmaceuticals Verona facility concept drawing.
business thread
Arrowhead Pharmaceuticals has paved the way in Verona, Wisconsin for the site that will house a new drug manufacturing facility of approximately 160,000 square feet and laboratory and office space of approximately 125,000 square feet to support the development of analysis process and activities. The company also announced that it had received rewards of up to $16 million in additional tax funding from the city of Verona and up to $2.5 million in refundable tax credits from the state of Wisconsin from the Wisconsin Economic Development Corporation (WEDC) as incentives to invest in the local community and create new jobs.
"For many years, we have had a productive and mutually beneficial relationship with the local biotech community and the wider business community in the greater Madison, Wisconsin area. Arrowhead is excited to continue its partnership with Wisconsin and thanks the City of Verona for providing us with $16 million in tax increase funding and WEDC for providing us with $2.5 million in tax credits. refundable. These incentives are a great example of public-private partnerships that support continued investment in activities that generate new jobs in the region," said Christopher Anzalone, Ph.D., President and CEO of Arrowhead. "These new facilities will help support the development, and ultimately commercialization, of potentially important new drugs that harness the natural RNAi pathway to target genes implicated in various diseases.
"Over the past several years, Wisconsin has been recognized as a powerhouse not only for discovering the latest advances in biopharmaceutical research and development, but also for manufacturing and producing these life-saving treatments," said the Governor Tony Evers. "That means companies like Arrowhead can research new therapies for debilitating diseases, bring them to market, and manufacture them right here in Wisconsin. For me, it's quite remarkable and worth the investment. So I'm proud to celebrate our state's $2.5 million investment in Project Arrowhead Pharmaceuticals to expand its presence here in Wisconsin and create well-paying jobs for Wisconsin residents.
Completion of the laboratory and offices is expected in 2023 and completion of the manufacturing plant is expected in 2024.