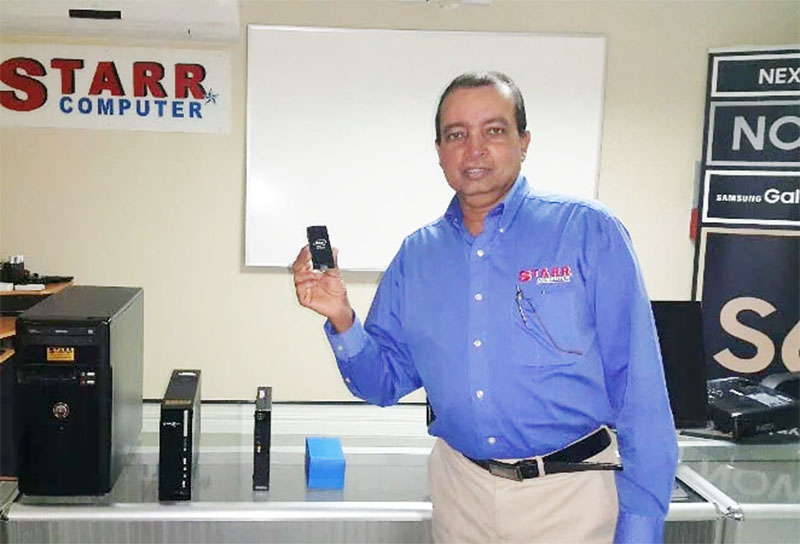 Starr Computers Introduces "Smart" Technology for Home, School and Business
While Starr Computers has done a lot to position itself at the head of the local IT "pack", the company's CEO, Mike Mohan, never seems to tire in his efforts to ensure the company continues to lead the way. .
A week ago, Mohan invited the media to visit what is currently the company's expanding Brickdam complex to "experience" what the invitation described as a "Smart Home, Smart School, Smart Business" demonstration.
SMART, the acronym for "self-monitoring, analysis and reporting technology", describes a technology that puts artificial intelligence to work "to provide cognitive awareness to objects" which, until now, were considered inanimate.
Last Friday, the company's beautifully appointed mid-floor technology center hosted a low-key but informative product exhibit and supportive "talk" by Mohan on the practical application of the SMART concept in the home, school and business.
In each of the three categories, Mohan's painstaking explanations of SMART technology and how it "improves" the management of schools, homes and businesses were accompanied by a bewildering array of gadgets designed to improve the efficiency of three sectors.
What perhaps should have been a much busier media event was, for those who attended, an introduction to where information technology is taking us.
A "fully loaded" Starr "Smart Home" computer offers a bewildering array of tech gadgets from "smart" security cameras to tech-controlled feeding stations for pets. Overall, Starr's SMART homes seem somewhat gadget-laden, although local tech "maniacs" may well appreciate the idea of ​​just "rocking" and getting through the day simply putting the gadgets out. 'test. The Smart School and Smart Business sections of the display offered gadgets to facilitate work, some of which are already in place in some companies. There is already a more than modest measure of evidence that some local businesses, determined to "raise their game" to meet the demands of an oil-based economy, are beginning to adopt SMART technology as an integral part of building of their respective projects. Business plans.
While there's a lot to be said for "Smart School" (perhaps Smart Classroom is the more appropriate term here), it has to be said that what appears to be the most market-ready section of the trilogy of technology demonstrations offered by Starr The recent computer technology display lacked the market representatives required from the education sectors. Various initiatives undertaken by the Ministry of Education, over time, supposed to gradually introduce the concept of "smart classroom" have failed to live up to expectations in two respects. Department of Education officials told this newspaper that the slow transition to smart classrooms is, to a large extent, "a matter of, first, affordability and, second, a shortage of pedagogical skills in the discipline".
Seeming to suggest that the time has come for the Guyanese education system to jump on the agenda with regards to the increased integration of smart technology into the classroom, Starr Computer states in its related press release that "Smart technology School has now taken on a life of its own. From the standard classroom environment of chalkboards and workbooks to a total Chalk Board digital platform," which the company said "had evolved into a touchscreen board that quickly transitioned to Smart Interactive Projection".
Mohan told Stabroek Business that Starr Computer is ready to work toward a mutually agreeable arrangement that will allow more teachers and students to be exposed to the technology the company is currently promoting.